The good news is that migraines improve for most women during pregnancy:
Headaches improve for about four in every five women by the third
trimester.
Headaches often don't improve until the early second trimester.
Even if your headaches improve, you may continue to still have some
troublesome headaches that will need treatment.
Safe and effective treatments are available for use when you are
trying to get pregnant and after you have become pregnant.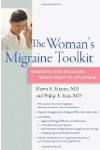 Hormones affect some migraines and for those that hormones trigger migraines the hormones of pregnancy can either help or hurt. Fortunately most people with migraines actually feel an improvement by the second or third trimester. Alas for some that is not the case. If you are pregnant and experiencing migraines look for triggers like caffeine in teas, cocoa, chocolate or even sounds and smells and try eliminating them. If they persist check in with your healthcare provider to see medicines you can safely take during your pregnancy.
Continue Learning about Migraine Headaches