Studies evaluating prevention drugs in children are limited. Drugs that effectively prevent migraine that have been directly tested in young people include propranolol (Inderal); the antidepressants amitriptyline (Elavil) and trazodone (Desyrel, Beneficat); and the anti-seizure drugs valproate (Depakene, Depacon) and topiramate (Topamax).
A study that compared migraine prevention in 120 children ages 3 to 15 years treated with either propranolol or valproate found that headache frequency was reduced by at least half in 7 of 10 children treated with either valproate or propranolol. A small study comparing headache improvement in 48 children with migraine treated with either valproate or topiramate likewise found that both treatments provided similar results. The anti-seizure drug levetiracetam (Keppra XR) was effective in preventing migraines in two studies testing small numbers of youngsters (19 youth in one study and 20 in another); however, both valproate and topiramate have been more extensively studied in younger patients than has levetiracetam.
Migraine prevention medications can be sedating. Children taking these medications should be monitored for problems with alertness, concentration and school performance. The newer class of antidepressants called selective serotonin reuptake inhibitors (SSRIs) are sometimes used to treat migraines in adults, although they tend to be only modestly effective. Because SSRIs have been linked to a small but significantly increased risk of suicide in pediatric patients being treated for mood disorders, careful monitoring is required in young people using SSRI antidepressants.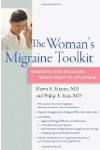 Continue Learning about Migraine Headache Treatment