Pregnancy is a great time to get motivated about incorporating effective non-drug migraine treatments. Relaxation techniques, dietary regulation and sleep regulation are especially important when you're pregnant. Other healthy lifestyle habits are also important, such as avoiding excess caffeine, stopping nicotine and keeping physically active. Switch from high-impact to low-impact exercise, and talk to your doctor about starting any new exercise routine. Continue to practice stress management techniques—you'll be happy you've mastered them after the baby is born, when life may become even more hectic!
Ergotamines are advised to be avoided during pregnancy, including Dihydroergotamine (DHE). If you do inadvertently use DHE before you know you're pregnant, don't be alarmed. A study evaluating babies born to over 900 women in Sweden who had used migraine drugs during early pregnancy—most often sumatriptan or an ergotamine—showed no increased birth defects in their babies.
Here are some tips for using migraine drugs during pregnancy:
Don't medicate mild headaches.
Treat nausea to avoid dehydration.
Select safe drugs for treating migraines and nausea.
Use the lowest effective dose.
Use drugs for the shortest time possible.
Especially minimize drug use during the earlier stages of pregnancy.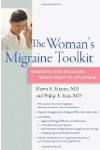 Continue Learning about Migraine Headache Treatment