Phytoestrogens are naturally occurring estrogens, and they are sometimes called "dietary" estrogens. They have been shown to significantly reduce menstrual migraines, similar to using prescription estrogen supplementation.
Phytoestrogen supplements are chemically similar to the estrogens your body produces. Effective phytoestrogen treatment strategies that have been tested and shown to be effective in research studies include:
Mini-prophylaxis with genistein 56 mg, plus daidzein 20 mg, 7 days
before the expected menstrual period and 3 days of menses
Soy extract 75 mg, dong quai extract 50 mg, plus black cohosh 25
mg twice daily
Magnesium taken 360 mg per day starting 2 weeks before menses and continued until your period begins has been used to treat the magnesium deficiency that occurs in many women with menstrual migraine. In one study, this approach resulted in a drop in the frequency of menstrual migraines by nearly half of those receiving this supplement.
Vitamins and herbs have not been tested specifically for menstrual migraine. Melatonin levels were shown to decrease during menses in women with menstrual migraine, suggesting that perimenstrual melatonin supplementation might be beneficial.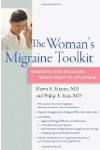 Continue Learning about Migraine Headache Treatment