A number of effective treatment strategies are available for patients with menstrual migraine, including:
Keep track of your headaches using a calendar or diary. Mark down when you have a headache, how severe the symptoms are, whether your usual treatment worked or not, and if you had your menstrual period that day. Keeping track of your headaches through two or three menstrual cycles will help you identify whether you have menstrual migraines.
Maximize your use of non-drug migraine prevention strategies during your perimenstrual time. Talk with your healthcare provider about various treatment strategies if you find that your headaches are consistently associated with having your period. You might consider perimenstrual treatments with hormones, standard migraine treatments, or natural remedies such as phytoestrogens, magnesium, and possibly melatonin.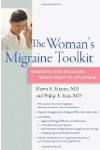 To find relief from symptoms, women experiencing menstrual migraines may explore these options:
Self-treating with nonprescription medications, such as combination aspirin-acetaminophen-caffeine preparations
Treating with medications prescribed by a physician, including nonsteroidal anti-inflammatory drugs (NSAIDs), ergotamines, triptans, and others
Menstrual migraine headache can be treated like any other migraine headache. For milder cases, try aspirin or a nonsteroidal anti-inflammatory drug (NSAID) such as ibuprofen, daily during the days before and the week of your period. Birth control pills may increase the frequency or intensity of attacks, which usually occur during the placebo week when the pills don't contain any estrogen. However, low-estrogen birth control pills may prevent menstrual migraine headaches in some women, especially when taken continuously. At menopause, menstrual migraine headaches should improve as long as you don't take hormone therapy -- which may actually increase the frequency and intensity of the attacks.
A direct connection exists between migraine headaches and the hormones that regulate your menstrual cycle. Watch this video by Dr. Oz to learn more about migraines and menstruation and what you can do to help to prevent migraines during your menstrual period.
Continue Learning about Migraine Headache Treatment