The best treatment is prevention. Identifying and eliminating triggers when possible can be very effective. Getting regular sleep, eating regular meals, avoiding alcohol, caffeine, and tobacco, and getting regular exercise have all been shown to help reduce the frequency of attacks.
Once a headache begins, simple home remedies include applying cold compresses to the head, trying to sleep, avoiding physical activity, relaxation, and over the counter analgesics such as acetaminophen can be helpful.
The familiar home remedies for migraine include "sleeping the headache off," lying still in a dark room, and avoiding bright lights, noise, and a smoky environment. Acupuncture and biofeedback have also been found to be effective for some people. A daily headache diary can help to identify the pattern between triggers and headaches. In the diary, you can note events such as the dates of your period, intake of alcohol or other possible food triggers, daily stress level, occurrence and severity of headaches, and the effectiveness of particular treatments.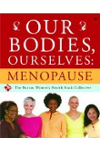 More About this Book
Our Bodies, Ourselves: Menopause
FROM THE EDITORS OF THE CLASSIC "BIBLE OF WOMEN'S HEALTH," A TRUSTWORTHY, UP-TO-DATE GUIDE TO HELP EVERY WOMAN NAVIGATE THE MENOPAUSE TRANSITION For decades, millions of women have relied on Our...
A migraine can be treated at home with over-the-counter medication including Tylenol, ibuprofen, naproxen or aspirin in high doses and cold packs to the head. Avoiding triggers, staying hydrated and lying in a dark, quiet room are also things you can do at home to help with your migraine. Some people may need a prescription medication, as well, which could be taken at home once prescribed by a doctor. Some of the prescription medications include prophylactic medications, which are taken to prevent severe and frequent migraines. These medications include beta-blockers, antidepressants and seizure medications, which help to prevent migraine frequency and severity. Over-the-counter alternatives to prevent migraines include vitamin B2 and co-enzyme Q10. There are other prescribed medications that help at the onset of an acute migraine attack with pain and nausea; they include triptans, metoclopromide, Zofran and prochlorperazine.
Continue Learning about Migraine Headache Treatment