Menopause is the time when a woman's menstrual cycles stop. The early stages of menopause can be associated with a myriad of symptoms related to estrogen withdrawal, including hot flashes, mood swings, vaginal dryness, and increased headaches. Headaches usually improve in the later stages of menopause, so you may need to increase headache treatments only during perimenopause. General guidelines during this period are:
Talk to your doctor about changes in your headache pattern and the
effectiveness of your treatments.
Maximize your use of non-drug treatments to reduce headaches and
other menopause symptoms. Some strategies have been shown
to reduce headaches as well as other menopause symptoms.
These include stress management, relaxation, cognitive
behavioral therapy, sleep hygiene, and exercise.
Weight gain is common in early menopause. Minimize weight gain by
adopting healthy eating, sleeping, and exercise habits instead of
skipping meals.
Don't use hormones specifically to treat headaches, because the
response is difficult to predict. Talk to your healthcare provider
about hormone therapy if you have moderate to severe
menopause symptoms, such as hot flashes, vaginal dryness,
and mood swings.
Use the lowest dose of hormone therapy for the shortest duration
possible. If appropriate, consider using vaginal preparations or
a transdermal patch instead of pills.
You may need to discuss alternatives to triptans if you have a
number of risk factors for heart disease.
Consider adding prevention therapies if your headaches are
frequent.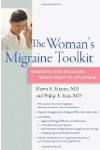 Continue Learning about Migraine Headache Treatment