Few vitamins, minerals, and herbs have been tested in children and teenagers. Always talk to your doctor before giving vitamin supplements, minerals, or herbs to your child or adolescent.

Nutritional supplements that have been specifically tested and shown to be effective for reducing migraine in youngsters include: butterbur (or Petasites hydrides), coenzyme Q10 (CoQ10), magnesium, and riboflavin.

In one study of butterbur testing young people with migraine, taking 25-75 mg (depending on the child's weight) of butterbur extract twice daily for 4 months decreased the number of migraines by 63 percent. Both children and teenagers experienced a similar degree of migraine relief with butterbur. As in adults, the most common side effect was burping.

Researchers tested 1,550 pediatric patients at a headache specialty clinic for CoQ10 deficiency. They found that one in three had low levels, and these children were given CoQ10 supplemental at doses of 1-3 mg per kilogram of body weight per day (or about .5 to 1.4 mg per pound of body weight). Headache frequency was reduced by 50 percent in almost half of the children.

One large study treated children and teens with migraine with magnesium for 4 months, with dosage varying according to each child's weight. Magnesium decreased the number of days with migraine by 45 percent, and also decreased their severity. Tension-type headache in children and adolescents may also be substantially reduced with magnesium supplements.

Riboflavin was given to a group of 41 youngsters with migraine in a research study, at a dose 200 or 400 mg of riboflavin daily for at least 3 months. Headache frequency dropped by at least half in two-thirds of the children. Side effects were minimal.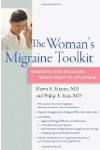 Continue Learning about Migraine Headache Treatment