The first level of response to migraines includes self-help strategies such as stress management, eating well, exercising regularly, and learning to avoid your triggers and respond to your warning symptoms. You may want to try over-the-counter medications or, if you need more help, seek acupuncture or consult with your health care provider. If you experience frequent or severe migraines, consult a neurologist with expertise in managing women's migraines. Migraine treatment is optimal when you are in an active partnership with your health care provider, keeping diaries for headache patterns and triggers, and tracking which medications helped, how soon they helped, and how effective they were.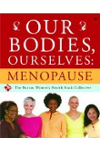 More About this Book
Our Bodies, Ourselves: Menopause
FROM THE EDITORS OF THE CLASSIC "BIBLE OF WOMEN'S HEALTH," A TRUSTWORTHY, UP-TO-DATE GUIDE TO HELP EVERY WOMAN NAVIGATE THE MENOPAUSE TRANSITION For decades, millions of women have relied on Our...
Continue Learning about Migraine Headache Treatment