Some women are unnecessarily concerned that they'll have to choose between just toughing out migraines with no treatments if they're nursing, or exposing the baby to harmful medications. You shouldn't ignore your headaches after the baby is born. Suffering with untreated, disabling headaches will make it hard for you to enjoy taking care of your baby. The good news is that there are a number of effective headache treatments you can use while you're breastfeeding—far more than during pregnancy.
You can make the safest choices for your baby by adjusting the medications you select and how you take those medications:
Select drugs that don't easily get into breast milk.
Choose drugs that are safe for babies to take.
Use the lowest effective dose.
Avoid repeated dosing.
Adjust the time when you take your medication to limit how much will get into your breast milk—and into your baby.
Treat mild headaches first with non-drug treatments. Limit medications to more disabling headaches that don't to respond adequately to non-drug therapies. Breast milk production is quite low for the first 1 to 2 days after delivery. Medications given during this time are unlikely to be present in your breast milk in concentrations that will likely affect your newborn. After the first few days, when milk production increases, concern about transfer of medications from breast milk to the baby becomes more important.
Single doses of opioids can be used cautiously as rescue therapy. Newborns have a limited ability to break down and metabolize opioids such as morphine. Therefore, repeated dosing in mom may result in a build-up of high morphine levels in the newborn. This may cause the baby to have a dangerously low heart rate and problems breathing.
During your final months of pregnancy, be sure to talk to your doctor about a headache treatment plan for after delivery—even if you've stopped having migraines during your pregnancy. You don't want to be caught in the middle of the night with a bad migraine wondering what you can take. You will also likely need a prescription for any acute medication that your doctor might recommend for use after delivery. Even if he or she recommends returning to your previous treatment, you may find that those pills have expired. So before the baby gets here and you're busier than ever, make sure you have an after-delivery treatment plan ready to go.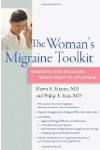 Continue Learning about Migraine Headache Treatment