Acupuncture can be very effective to relieve migraines and other headaches. You can use acupressure on a newly discovered acupuncture point to help relieve headaches and migraines. The point is called Che Qian. This acupuncture point is located on the arm. Ask your acupuncture practitioner to show it to you.
There are a few natural remedies that have proven to be extremely effective for both preventing and treating headaches and migraines. These include:
Magnesium: Research suggests that magnesium supplements may shorten the duration of a migraine and reduce the amount of medication needed. I recommend taking magnesium glycinate or citrate, taken to bowel tolerance each night (approximately 200mg to 600mg). If you get loose stools you can reduce the dose.
Coenzyme Q10: Take 100mg up to two times daily. Like magnesium, Coenzyme Q10 has been shown to reduce the frequency of migraines.
Eliminate your food allergies for two weeks: This includes the removal of all of the most common food allergies (all grains that contain gluten, dairy, citrus, peanuts, caffeine, sugar and soy). After the 14-day removal period you should slowly reintroduce the foods one at a time. By doing so, any physical or mental symptoms related to the food can be isolated. You can also follow The Hormone Diet or The Supercharged Hormone Diet for a complete detox meal plan and recipes.
Feverfew: Take a standardized herbal extract providing 250 mcg of parthenolide a day to help reduce the frequency, severity and length of migraine attacks.
Lastly, working with an osteopath, acupuncturist, chiropractor or massage therapist will help you to reduce muscle tightness and improve your posture—both can contribute to migraines. For best results, ask your practitioner for some homework to do in between treatments. This may include corrective exercises, ergonomic adjustments (particularly at work) and even relaxation techniques.
Wishing you perfect balance,
Dr. Natasha Turner ND
High-dose riboflavin (400 mg of riboflavin daily for 3 months) has been shown to reduce the number of migraine attacks by half. Effective doses for children and adolescents are 200 to 400 mg daily. Most pharmacies don't carry the 400-mg tablet, and you may have to ask your pharmacist to order it. Riboflavin is generally very well tolerated. And don't worry about overdosing—riboflavin is a water-soluble vitamin, and your body will take what it needs and excrete the rest, so it can't build up to toxic levels. The normal daily recommended amount of riboflavin for general health in adults is 1 to 2 mg. This amount would be found in about 2 cups of milk or yogurt.
Several non-drug treatments have been specifically tested for the treatment of menstrual migraine. Relaxation therapy, including biofeedback, has been shown to help reduce menstrual migraines. Similar to non-menstrual migraine, acupuncture is not effective for menstrual migraine.
Healthy lifestyle practices may be particularly important during the perimenstrual time. Headache triggers can be additive—two or more triggers can combine to lower the threshold more than either one alone. Around the time of your menstrual period, changes in hormones, magnesium levels, and prostaglandins, for example, can act as important headache triggers. Because the physiology of menstruation causes a number of triggers you can't control, it's especially important that you minimize those triggers that you can control. During the few days before you expect your period and for the first few days of menstrual bleeding, make an extra effort to not skip meals, avoid possible dietary triggers such as red wine and get an adequate amount of sleep, with regular bed and waking times. Even if you feel bloated with your period, don't skip meals or limit the amount of water you drink—fasting and dehydration are important migraine triggers. If you don't regularly exercise and practice relaxation techniques, your perimenstrual days can be an important time to add daily relaxation, stretching exercises and aerobic exercise to your routine.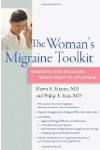 There are some alternative therapies that can be beneficial in migraine. One supplement, butterbur, has been found to prevent migraines. Feverfew is another supplement that you may have heard of, but the evidence is conflicting as to whether it helps. Some patients may also benefit from magnesium and riboflavin. Remember, supplements are not regulated by the FDA, so make certain that you're buying them from a reputable manufacturer and discuss the options with your doctor.
Another alternative therapy that has been promising is acupuncture, which may be effective in some migraine sufferers. Biofeedback is another promising therapy to help control tension and pain.
One book I really like on this subject is The Migraine Solution, by Dr. Paul Rizzoli (an expert on SC) and Dr. Elizabeth Loder.
A variety of self-care and alternative treatments may be useful for treating or preventing migraine attacks. These are some of the self-care methods that are used to decrease acute migraine pain:
applying cold compresses to forehead
sitting or lying down (inactivity)
avoiding sensory input (light, noise or odors)
sleeping
In addition, the following activities have been proved effective for treating and preventing migraines:
practicing biofeedback (a training program that helps a person to control body functions, such as heart rate, blood pressure, muscle tension and pain sensations)
practicing relaxation techniques (progressive muscle relaxation, guided imagery and breathing exercises)
There are many treatments for migraine some of which may be considered "alternative". Biofeedback, relaxation therapy and acupuncture all have proven benefit in some migraine sufferers. There are a variety of herbal and nutritional supplements that have been scientifically studied and have shown to have some benefit in preventing migraine, including magnesium, riboflavin (vitamin B2), feverfew and butterbur extract. It is important to remember that even though these are available without a prescription, they are still medications with possible side effects and should only be taken after discussion with your physician.
There are some nutrients and herbs that may provide some support against migraine headaches. Firstly, the mineral magnesium, which most people don't get enough of, helps relax blood vessels that may become constricted reducing blood flow to the brain in individuals with migraine headaches. Secondly, CoQ10 helps provide every cell in the body, including brain cells, with the support it needs for proper energy production.
Some studies show a high dose of vitamin B2 (Riboflavin) can be of benefit for migraine headaches. One European study involving 55 migraine patients showed high dose riboflavin (400 mg per day) was effective in reducing migraines by at least 50 percent in the majority of patients. There are two botanical extracts that may also provide some relief, but be sure to look for a standardized European extract, the highest quality herbs available. The two herbs are Feverfew and Petasites (Butterbur). One study published in the respected Journal Neurology showed that after over 4 months of treatment, in the per-protocol analysis, migraine attack frequency was reduced by 48 percent for Petasites extract at 75 mg taken twice daily.
So, there are some options for migraine headaches, but they should be discussed with your physician so he or she can work with you if you are currently taking prescription drugs.
Home remedies may not be as effective as migraine medication or the relief from acupuncture. Some suggestions include using an ice pack or compress on the painful part of your head or neck, taking a nap or a walk or laying down in a quiet, dark space. Apply gentle, steady rotating pressure to the painful area of your head with your index finger and/or thumb. Maintain pressure for 7 to 15 seconds, then release. Repeat as needed. Sometimes massage can help too. It is still best to check with your physician to determine the best, most affordable treatments for your migraines. You can check with your state's health department to find a clinic in your area that offers affordable health services to people without health insurance.
This question is tricky because there are alternative therapies, but they tend to lack scientific evidence to prove they are effective.
Alternative therapies frequently involve learning how to relax, while increasing blood flow.
Here are some possible alternative therapies:
Relaxation exercises: These can help a migraine sufferer establish a routine, increase blood flow and handle stress more effectively, thus preventing some known migraine triggers.
Yoga: This form of exercise involves poses, breath control and stretching to strengthen muscles and to increase blood flow. Often used with meditation exercises, it promotes calmness.
Biofeedback: This practice involves concentrating on your inner reactions. You consciously control your pulse, blood flow, muscle tension and oxygen intake with the assistance of a therapist, who measures your response to images and flashing lights and images.
Acupuncture: Although it sounds painful, most patients report that it is not. This practice involves using tiny needles in strategic places in the body to control your health and wellness.
A number of supplements and herbal remedies are known to be used in treating migraines. They include:
Riboflavin: Vitamin B-2, or Riboflavin, helps to strengthen and to heal brain cells. Riboflavin can be taken as a supplement or you can eat foods that are high in vitamin B.
Coenzyme Q10 supplements: Coenzyme Q10 is produced by the body to help muscles and tissues function. Scientific studies differ on how effective this is in preventing migraines. Since migraine is a highly personal condition, some people respond well to this treatment, while others do not.
Feverfew: Feverfew, an herbal supplement, has found to be successful in preventing migraines and in short-term treatment of migraines. This is an anti-inflammatory, somewhat like ibuprofen. It may be a good treatment to try. Like all medicines, however, taking too much of this can cause side effects.
Butterbur: Butterbur is an herbal supplement that appears to be quite effective. However, it is possible this herb contains cancer-causing compounds, so pregnant women and people with a high risk of cancer may want to avoid this. Scientists are attempting to isolate the good parts of the plant and to eliminate the bad parts in order to create a better migraine treatment.
Continue Learning about Migraine Headache Treatment