Childhood headaches are different from adult headaches. Most importantly, headache episodes in young people tend to be shorter in duration, with migraines usually lasting only 1 to 2 hours before resolving. They are often associated with abdominal pain, involve less nausea than in adults and are often relieved by sleep.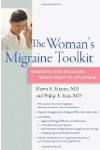 Children certainly can have migraine headaches. There are a variety of symptoms that a child may have. Crying may be the only symptom in children. Here are some other possible symptoms of a child with a migraine: curling up in a ball and holding one's head, vomiting, walking crooked or walking into things, just being cranky. Most migraines respond to resting in a dark room. The pain may last anywhere from a few hours to a few days. Make sure to see your child's doctor if the symptoms don't go away in a reasonable time.
Migraines tend to be of shorter duration in children than in adults. By definition, migraine in adults has to last at least 4 hours while headaches in children are frequently much shorter. Some young children may experience attacks of abdominal pain and vomiting without headache or attacks of dizziness without headache that may be due to migraine.
Continue Learning about Migraine Headache Symptoms