Migraines are diagnosed clinically, typically by one's primary care physician or neurologist. They have classic features of a throbbing, typically one-sided headache, with nausea and sensitivity to light and sound. The headache drives people to avoid too much activity and instead seek a quiet, restful place. It can have added features of visual changes such as opaque spots in the vision, wavy "heat-like" lines, or squiggly colored lines called a visual aura. Other common auras include tingling in the face or hand or even confusion. On less common occasions the may be associated with weakness on one side of the body.
There are no specific diagnostic tests such as X-rays or blood tests to tell if your headaches are migraines. A diagnosis of migraine is confirmed only after your doctor carefully examines your headache symptoms and history. She may decide you need to have tests to make sure your headaches are not caused by some other medical condition. Most people with headaches won't need to have blood tests, X-rays, or special tests such as computed tomography scans (CT scans) or magnetic resonance imaging scans (MRI scans). These tests are usually reserved for patients whose headache histories or examinations suggest that their headaches are not typical migraines but may be due to other medical problems.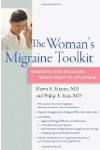 There is no test for migraine, and attacks are diagnosed based on the medical history with no abnormalities on the neurological examination that would suggest a secondary headache cause. Migraines are recurrent attacks, although the frequency varies widely. Attacks last 4-72 hours.
In this video, Mark Green, MD, director of the Center for Headache and Pain Medicine at the Mount Sinai School of Medicine, explains how doctors diagnose the condition.
There is no definitive test to distinguish a migraine headache from any other type of head pain so your doctor will rely on your medical history and physical examination, along with a detailed discussion of symptoms and triggers. Other testing, such as CT scan, is rarely necessary.
The first step in diagnosing migraine headaches is to perform a physical exam. The exam will include an assessment of your symptoms and an examination of your and your family member's medical histories. A neurological examination is also normal procedure. A CT or MRI might be necessary in assisting with the diagnosis as well. This is particularly necessary for those who are older and experience migraines with an aura, which are signs that occur before the onset of a migraine headache.
Diagnosing migraines can be difficult because the symptoms often are extreme and can resemble other serious conditions, including heart attack, stroke, meningitis and brain tumors. Most migraine conditions are diagnosed after a doctor takes an extensive family history, considers the patient's symptoms and rules out other possible conditions.
Your head is killing you -- but does that mean it's a migraine? Thanks to clear symptoms, migraine headache are relatively easy to spot, says integrative medicine expert and Dr. Oz Show guest Mosaraf Ali. In this video, he explains how doctors make the diagnosis.
Migraines are diagnosed based upon the description of the attack. The location and character of the pain as well as any associated symptoms such as nausea or light and sound sensitivity are helpful clues to the diagnosis of migraine. While there are not tests that diagnose migraine, brain scans may be necessary to rule out other causes of headache.
Continue Learning about Migraine Headache Diagnosis