In order to determine if your headaches are related to your menstrual periods, you will need to keep a headache diary for 2 to 3months. Be sure to record both headache activity and when your menstrual periods occur. You may notice one of these patterns:
Your headaches occur only around your menstrual periods: You have
pure menstrual migraine.
Your headaches become more frequent and more severe around your
menstrual periods, but you also have headaches at other times
of the month: You have menstrually related migraine.
Your headaches don't seem to be any worse around your menstrual
period. They seem to be scattered randomly throughout the
month, sometimes occurring with your menstrual periods but
just as likely to occur on non-menstrual days: You don't have
menstrual migraines.
Your headaches typically occur or get much worse during the placebo
week of your birth control pills: Your migraines are likely to be
aggravated by the estrogen drop that occurs during the placebo
week. Talk to your doctor about modifying your contraceptive
therapy.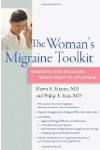 Continue Learning about Migraine Headache Diagnosis