Headaches are associated with menses for about three of every five women with migraines. Menstrual migraine is generally considered to be triggered by a drop in estrogen levels that begins about 2 days before the beginning of the menstrual period. Headaches that are triggered by this change in estrogen are most likely to occur during the 5 days around the beginning of each menstrual period—starting 2 days before menstrual bleeding begins and through the first 3 days of menstrual flow. This time around the beginning of your menstrual period is called the perimenstrual time. (The prefix peri means around.) The perimenstrual time includes the few days before your period begins and the first few days of menstrual bleeding.

You might have headaches on each of these days or on only a few of them. Women whose migraines occur only during these 5 days for at least two of every three cycles are defined as having pure menstrual migraine. Only about 15 percent of women have migraines that occur exclusively during these 5 days.

Most women have headaches that occur with their menstrual cycles and on non-menstrual days. If your migraines typically worsen around your menstrual period, but also occur when you're not having your period, you can be diagnosed with menstrually related migraine. About half of women with migraine have this type of migraine activity. In general, migraine attacks without an aura tend to occur more frequently during the time around the menstrual period.
Factors contributing to menstrual migraines include:
Lack of exercise
Poor sleep with decreased melatonin
Irritability
Food cravings affecting diet
Low estrogen
Low magnesium
Increased prostaglandins
Increased muscle tension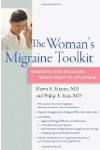 One of the things that is very important in understanding migraine is that 75% of migrainers are women. There is definitely a tie between hormonal changes and migraines. Generally speaking, migraines start at menarche and end at menopause. When women become pregnant, they usually have no migraines during second and third trimester. Hormonally related migraine headaches are related to the fall in estrogen at the time of menstrual flow. No one has a solid answer to this problem. Adjusting birth control pills or going on continuous birth control pills may be a possibility. All a matter of trial and error. Mentioned Frovatriptan before which has a 26 hour half life. You can use it in a prophylactic manner before the menstrual flow. Take 1 pill twice a day, two days prior to your flow provided that you are regular with your menses. 1 pill 2 days in to the flow. This can be modified to 1 pill a day for 4 days and should be based on results that you get.
Continue Learning about Migraine Headache Causes