If your migraine headaches are closely linked to your menstrual cycle, menopause may make them less severe. As you get older, the nausea and vomiting may decrease as well. About two-thirds of women with migraines report that their symptoms improve with menopause.
But for some women, menopause worsens migraine or triggers them to start. It is not clear why this happens. Menopausal hormone therapy, which is prescribed for some women during menopause, may be linked to migraines during this time. In general, though, the worsening of migraine symptoms goes away once menopause is complete.
This answer is based on source information from the National Women's Health Information Center.
Some migraines can be related to your menstrual cycle caused by an increase in hormones. If you have this type of migraine related to your menstrual cycle, a decrease in this hormone during menopause can make your migraines better. However, for some women, menopause actually worsens or can cause migraines to start. There is a possibility that hormone replacement therapy used during some women in menopause can be linked to this increase in migraines. However, the exact cause is not known, but usually these migraines go away when menopause resolves.
Menopause signals the end of a woman's ability to bear children. It is formally defined as beginning 12 full months after a woman's last menstrual period. During the perimenopause—the time leading up to the onset of menopause—periods become more irregular and estrogen levels fluctuate. This time of transition is when a woman's headache pattern may begin to change as well. The transition from perimenopause to menopause—typically lasting anywhere from 2 to 8 years—is often marked by hot flashes, mood swings, vaginal dryness, and other symptoms in addition to changing headache pattern.

Hormone replacement therapy (HRT) is sometimes used to treat severe perimenopause symptoms, such as hot flashes and mood swings, and may affect the headache pattern. The good news is that the vast majority of women experience significant improvement and often resolution of their headaches a few years after menopause begins. This is because estrogen levels diminish to very low levels and no longer fluctuate within 2 to 3 years after menopause begins.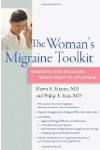 Continue Learning about Migraine Headache Causes