Microdermabrasion is a procedure in which fine crystals are blasted at the skin and then vacuumed back away from the skin. These two components help clean out the pores temporarily and make the skin feel smoother. Usually a series of five to seven microdermabrasion treatments are done to get optimal results, followed by maintenance treatments every 6 to 8 weeks. No really good studies exist showing the benefits of microdermabrasion; however, plenty of anecdotal evidence suggests that it does help in the treatment of acne.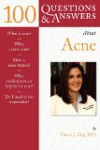 More About this Book
100 Questions & Answers About Acne
100 Questions and Answers About Acne provides you with all the information you need to manage your complexion problems. Written by Dr. Doris J. Day, a world-class expert in the field, this clearly...
Continue Learning about Microdermabrasion