Metabolic Syndrome X is a condition in which there are multiple health-related abnormalities, but none are abnormal enough to be diagnosed with a disease. Metabolic Syndrome is usually characterized by elevated blood sugar (not high enough to be diabetic), elevated blood cholesterol and being overweight.
Syndrome X is a condition in which the body makes more insulin than necessary after the consumption of carbohydrates -- especially when the carbohydrates are simple, as in the case of all the sweets we eat, or refined, as in the case of the white bread and its variations. With syndrome X comes elevated blood pressure and triglycerides, which means that a diet high in sugars and refined starches could be detrimental in any number of ways.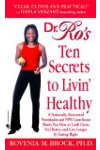 More About this Book
Dr. Ro's Ten Secrets to Livin' Healthy
In this one-of-a-kind book, Dr. Rovenia M. Brock—known as Dr. Ro™ to fans of Black Entertainment Television's Heart & Soul—reveals practical, satisfying ways for African American women to eat...
Continue Learning about Metabolic Syndrome (X)