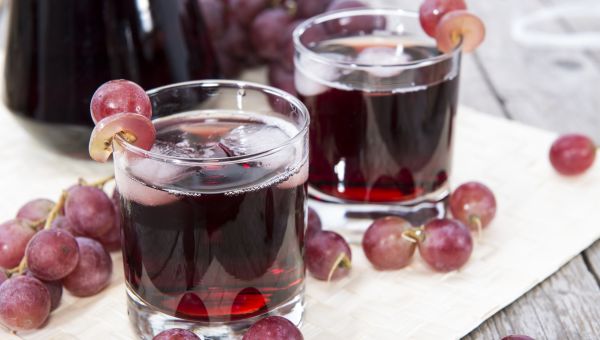 Reduce Metabolic Syndrome with Grape Juice
Help kiss metabolic syndrome goodbye just by touching your lips to a glass of this: grape juice.
Seems that resveratrol -- a compound found in red grapes, red wine, and grape juice -- starts a helpful chain reaction that could keep metabolic syndrome in check. And that's a very good thing, because metabolic syndrome significantly increases the likelihood of heart disease.
Resveratrol Benefits
Here's how it works: In an animal cell study, researchers watched it all go down. Seems that resveratrol triggers a process that results in a hormone called adiponectin -- and this hormone is something special. Resveratrol benefits include protecting the lining of blood vessels from inflammation, enhancing the function of insulin, increasing glucose tolerance, and putting an end to the development of both metabolic syndrome and heart disease. Pretty hot stuff. Especially for people who are struggling with their weight, since arterial inflammation and insulin and glucose problems can be a real problem for obese people. Not only that, but obese people tend to have lower adiponectin levels to begin with. (Related: Does obesity run in your family? Here's one way to outsmart your genes.)
An Antioxidant to Live By
Whether you're healthy or struggling to drop weight, getting more red grapes and red grape products like grape juice into your diet is a great way to jack up your resveratrol intake. A little bit of red wine in moderation is an excellent source -- although alcohol isn't right for everyone. Here are a few more reasons to get this live-longer polyphenol on the menu:
Take the first steps to growing younger and healthier with the RealAge Test.
Metabolic syndrome X, also called insulin resistance syndrome, is a group of conditions that put you at risk for heart diseases and diabetes. The cause is unknown, but it is thought that you lack a hormone in your body that helps ...
you turn sugar from good into energy. People with this syndrome have high blood pressure, high blood sugar, high triglycerides (a kind of fat), low levels of HDL (the good cholesterol) and are fat around the waist. If you have at least three of these conditions, you may be at risk for heart disease or diabetes. See your doctor to talk about lifestyle changes and other treatments that can reduce your risk.
More