Look for these signs of dehydration in your child:
Sunken eyes
The soft spot is sunken on top of a baby's head.
Dry mouth and tongue
No tears
No urine in 12-18 hours
Unusually sleepy or tired
Dehydration is a serious problem. Call your doctor if you think your child may be dehydrated. Dehydration may need to be treated in the hospital.
If they're a little dehydrated, their lips may be dry and their mouth may feel a bit gummy or sticky. With increased dehydration come shakiness, headaches, and stomachache. Water is usually the best choice for overall hydration. Your child may prefer sports drinks like Gatorade or Propel, but the benefits of sports drinks over plain water is minimal. Also, most sports drinks contain sugar, which will add to your kid's daily calorie intake, and some contain caffeine.
From Good Kids, Bad Habits: The RealAge Guide to Raising Healthy Children by Jennifer Trachtenberg.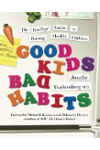 A simple and effective way to monitor a child's hydration status is to check the color of his or her urine. Light yellow urine indicates adequate hydration while darker urine indicates dehydration. You can also weigh your child before and after activity. Any weight loss as a result of activity would indicate water loss, which should be replaced.
This answer provided for NATA by the Marist College Athletic Training Education Program.
The symptoms of dehydration in children vary and can be difficult to spot. Your child may show few or no signs of dehydration if it is mild. He or she may be very ill if severely dehydrated. Your child may have one or more of the following:
Mild to moderate dehydration:
He acts thirsty and wants to drink.
He acts tired, sleepy, restless or fussy.
His mouth is dry and has sticky mucus.
He urinates less than usual, or his urine is a dark yellow color.
His feet and hands feel cool.
Severe dehydration:
She drinks poorly or does not drink.
She acts very sleepy or will not wake up.
She cries without tears.
Her mouth and tongue are very dry.
Her eyes look sunken in.
She urinates very little or none at all.
Her feet and hands are cold. They may be pale or bluish in color.
Continue Learning about Metabolic Disorders