Cases of dehydration are seen quite often, especially in children. Kids get dehydrated (run low on fluids) much quicker than adults because they have much smaller bodies. If they get a stomach bug or another infection that causes vomiting or diarrhea, dehydration can occur swiftly. If symptoms persist and fluid intake is not adequate, severe dehydration can be fatal. Signs to watch out for: Listlessness, dry lips and mouth, crying without tears, or no urination over several hours (or very dark urine). Children suffering from dehydration often become so sick that they can't keep any food or water down. Call your pediatrician pronto if you spot any of the above symptoms. You may need to take your child to the Emergency Department (ED) to receive intravenous fluids. You can sometimes treat less severe cases of dehydration at home by giving a child a teaspoon of a pediatric oral rehydration fluid (such as Pedialyte) every five minutes or so. These mixtures contain a balance of fluid, sugar, and electrolytes and can be used to slowly rehydrate kids.

From The Smart Parent's Guide: Getting Your Kids Through Checkups, Illnesses, and Accidents by Jennifer Trachtenberg.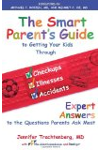 It can be difficult to tell how dehydrated your child is. Depending on age, some signs can be a decrease in urine output, decrease in tear production, dry mouth, pale or dusky skin color, and, on newborns, a sunken soft spot on the head. If you see any of these in your child, you should bring it to the attention of your doctor immediately. Sometimes, with the summer coming on, your child may have slight dehydration. Make sure she drinks plenty of fluids, and watch for the warning signs.
Continue Learning about Metabolic Disorders