Your mental health crisis plan may include preparing the following:

- A list of your support network, including their roles in your life and their contact information.
- A list of all medications you're taking and why you're taking them, and a list of your healthcare providers and pharmacy.
- A list of symptoms that may indicate the need to have others take over your care.
- A list of instructions for your support network should you become unable to take care of yourself. Include information for practical things such as paying your bills and making financial decisions. Your partner, if you have one, may be best suited for this role, because you might have joint accounts that make it easy for him or her to support you in this area.
- A list of people who are available to drive you to appointments or the hospital if required.
- Directions for care of your children and pets in case you become unable to take care of them yourself.
- Directions for notifying your employer and loved ones in the case of your hospitalization.
- Your insurance information.
- An advance medical directive and a legal power of attorney, if you choose, created in consultation with your doctor and legal counsel, for implementation if you become unable to care for yourself.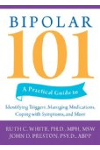 Continue Learning about Mental Health