To monitor symptoms of mania, in a journal, answer the following questions about your life up to this point:

1. Which symptoms of mania have you ever had and when did they occur? (Write down the month and year of each occurrence; if you cannot remember exactly, estimate.)

2. Approximately how long did these symptoms last (days, weeks, months)?

3. How severe were your symptoms for each occurrence? (Use a scale of 0 to 10, with 10 being the most severe.)

4. How did these symptoms express themselves (problems at work, shopping spree, making multiple and risky sexual advances to people, sleeplessness, and so on)?

5. What was the outcome of these behaviors (interpersonal conflict, moving violation for speeding or reckless driving, and so on)?

This information will help you assess your lifetime experience with mania and will help your mental health provider to understand the nature of your illness. You may also begin to see patterns that will help you change your behavior and thus reduce your symptoms.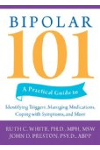 Continue Learning about Mental Health