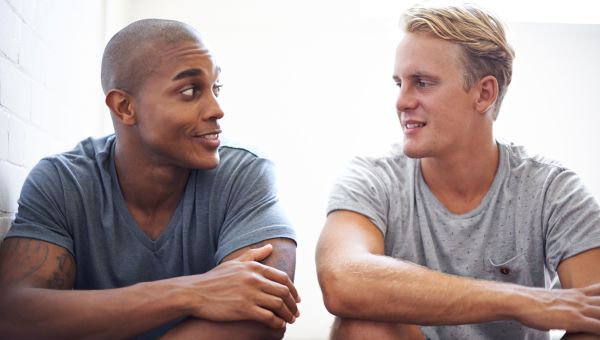 Get concrete resources for connecting once you're a civilian.
For many United States servicemen and women, transitioning from active duty to civilian life isn't easy. Some Veterans may feel lost or isolated, or like few people understand their experiences. Others may crave order and miss the discipline of the military. And many have had service experiences affecting their ability to adjust. In fact, one Pew Research Center survey found that almost half of post-9/11 Veterans said re-entry was difficult for them—and combat experience, knowing someone who had been killed or psychological trauma made it harder.
These re-acclimation issues may be compounded by or contribute to other issues linked to military service. Veterans have an increased risk of post-traumatic stress disorder (PTSD), depression and suicide. According to a Department of Veteran Affairs (VA) report released in September 2017, the suicide rate among Veterans is 22 percent higher than the general population, and for female Veterans, it's 2.5 times higher than adult women who are not Veterans.
The good news: finding communities of other Veterans may ease the transition to civilian life—and many organizations can help provide these connections. Through them, Veterans can establish a social network, share experiences or get advice on easing the jump into a new routine.
Veterans' groups
Comprised of or dedicated to Veterans, these organizations assist with transition, provide ways to serve the community, foster connections to other Veterans and active-duty military and much more.
Find more groups focused exclusively on Veterans' issues and social connections at GreatNonprofits.
Groups with Veteran programs
While many organizations are focused entirely on Veterans, some non-military companies, groups and non-profits have smaller programs or divisions dedicated to helping Veterans and their families connect with others. For example, the Sierra Club, a 126-year-old national non-profit devoted to protecting the environment, provides wilderness escapes for Veterans called the Military Outdoors program. The trips last a few days and run throughout the year. Outward Bound, another non-profit focused on wilderness journeys, has a similar program called Outward Bound for Veterans—and many of the courses are free.
Sometimes, people who support Veterans need to connect, too. The American Red Cross Military and Veteran Caregiver Network offers peer groups, a mentorship program and an online community, among other benefits.
To find non-military organizations with Veterans' programs, it's best to take it case by case; search online or call specific groups you're interested in to explore their options.
Crisis helplines for Veterans
No Veteran or family member needs to feel alone. If you or a loved one is in need of immediate support, you can reach out to one of the numbers below.
Veteran Crisis Line: This phone line is available 24 hours a day for active duty/reserve and guard members, as well as Veterans and their family and friends. There are three ways to reach them: via online secure chat, text (phone number: 838255) or calling 1-800-273-8255 and selecting 1. Since the support line launched, it's answered close to 3 million calls and has transmitted emergency services roughly 74,000 times.
Vets 4 Warriors: This 24/7-support phone line provides peer support to Veterans of all ages who need help dealing with a physical, mental or social change. Though the US Department of Defense and the National Guard Bureau supported the organization when it initially launched, it now works independently. To reach the team, dial 855-838-8255 toll-free.
Returning from service and transitioning back to civilian life can have its obstacles—but finding a supportive community should not be one of them.
Medically reviewed in June 2018.