The categories of therapists include marriage and family therapists, mental health counselors, nurses, social workers, psychiatrists, and psychologists. It is useful to know the details about different specialists, especially since it affects insurance coverage. The type of therapy has a significant impact on whether or not it helps you. For example, it may be useful to turn to a cognitive or behavioral therapist to deal with a particular phobia such as the fear of crowded places. Earlier, psychiatrists (trained medical doctors) were the only therapists permitted to hospitalize people and to prescribe medications; but now many social workers and psychologists also have the privilege to hospitalize patients and some states allow psychologists, nurses, and other professionals to prescribe medications. In addition, some therapists routinely collaborate with psychiatrists or others who can prescribe medications.
Historically, social worker training has included substantial focus on an individual in the context of family and community (social welfare issues). Psychologists are trained to administer and interpret standardized psychological tests and practice psychotherapy or other types of clinical interventions. Psychiatrists are medical doctors with more training about physical diseases and psychopharmacology.
Therapists of all kinds use various approaches and usually have a particular style and approach that you can ask them to describe. While all these therapists may be licensed in your state, they may not all be reimbursed by insurance. Check with the professional organization or licensing board for each specialty in your state to find out whether they can accept third-party reimbursement. Be sure to ask about fees and insurance before you make the first appointment. Many of us do not have insurance coverage for such professional help, and free care options are frequently not available, which is yet another reason why we need major health and medical care reforms in this country. Some therapists offer sliding-scale fees.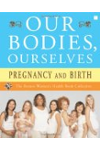 More About this Book
Our Bodies, Ourselves: Pregnancy and Birth
ALL THE INFORMATION YOU NEED TO MAKE WISE DECISIONS ABOUT YOUR PREGNANCY AND THE BIRTH OF YOUR CHILD -- FROM THE EDITORS OF THE CLASSIC "BIBLE OF WOMEN'S HEALTH" Pregnancy and birth are as ordinary...
Continue Learning about Mental Health Therapies