If we take a moment to look at life honestly, we will find that most of our discomfort comes from dwelling on the past or worrying about the future. When we do not d this, we usually find that in any given moment things are just fine.
For example, even if someone is going bankrupt and worrying about how to pay the bills, in any given moment they usually have the food, shelter, and other necessities they need. I found this to be the case when I had Chronic Fatigue Syndrome and, having had to drop out of medical school and being unwilling to turn to my family, I had eighty-two cents to my name. I would sometimes hitch-hike during the day and sleep in parks at night. Amazingly, it turned out to be an enlightening time in my life as I trusted fate and met many wonderful and compassionate people. If the only time that exists is "now," we can let go of worrying about the future (which you may notice feels bad) while still enjoying, happily planning for, and exploring into what feels good. We can do and be whatever (from a centered place) feels best in the moment (without hurting anyone else - you will find it does not feel good to hurt others if one is truly centered) whether it is taking a bath or a nap, eating, playing with loved ones, watching or playing sports, making love, or reading a book.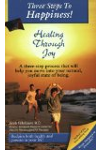 More About this Book
Three Steps to Happiness! Healing Through Joy
Happiness is our natural state of being. It is who we are. This happiness is obvious when you look at little children before they take on society's beliefs. Their natural state is to feel all of...
Continue Learning about Mental Health Therapies