Every kid has certain cues that trigger deeper frustrations and unresolved conflicts that may resort in angry outbursts. For example: your child may feel unappreciated in your family, may feel inadequate in a competitive classroom environment, or may suffer from low self-esteem.

The key is to identify what causes the anger in your kid and help him be aware of it when it occurs. What are your child's unique anger triggers? Once you create that list, ask yourself if anything on there can be reduced or cut so as to temper that anger. For instance: Can you and your spouse vow to have those arguments in the backyard or elsewhere and not in front of the kids? If that violent video game seems to be triggering your child's outbursts, what about replacing it with a healthier alternative? If your child is too upset on that soccer team, does he really need to play?
Boys and girls respond differently to anger, stress, and discipline. Girls, who tend to have more advanced language skills, will use their words, whereas boys may feel like hitting someone or something. One of the strategies that we have found effective (and by we, we mean Dr. Oz) is this: When a boy is reacting emotionally or physically, go ahead and wrestle a bit with him (playfully, not WWE-like). This gives him a chance to vent physically without actually hitting anything, and it also helps diffuse the situation. (Good-natured wrestling should be supervised by a mature adult -- hello, Mom!) When kids don't have language to vent frustration, roughhousing can help. (The periodic broken lamp is less expensive than psychiatry bills later on in life!) Plus, think of all the subconscious cues going on: Yes, you may be restraining him, but the physicality also means that you're hugging and comforting him at the same time. It's a strong statement to a kid: It shows that you're engaged with his emotions but also establishing your role as the parent and the authority. Note: If your daughter sounds more like the boy in the description above and needs a good wrestle rather than just a hug, this is not a cause for alarm. The above is a generalization, and individual temperaments vary tremendously.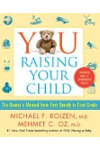 Continue Learning about Mental Health Therapies