The repression of anger is simply dishonesty. It leads to depression if directed inward, and hatred and self-righteous abusiveness when it is directed outward. The most honest and evolved approach that I know of is to simply feel what is real without any blame, guilt, or sense of victimization.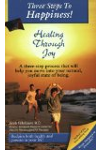 More About this Book
Three Steps to Happiness! Healing Through Joy
Happiness is our natural state of being. It is who we are. This happiness is obvious when you look at little children before they take on society's beliefs. Their natural state is to feel all of...
Repressing anger isn't healthy. It's like you're pretending something doesn't exist when it does. The best thing to do with anger, or any emotion is to acknowledge its existence. It's not the emotion of anger that causes trouble; rather it's your reaction to it. Here are some tips to help you cope with your anger emotion.
Acknowledge your emotion. Emotions are like waves, they come and go.
Don't push the emotion away. Don't reject it. Accept it for what it is; just an emotion.
Don't judge your emotion. It is not good or bad. It's a feeling.
Don't hold onto to your anger. Rehearsing negative events over and over will only make you angrier and feel worse. If you find yourself obsessing on anger provoking situations, tell yourself to "STOP" and get busy doing something positive.
Remember you are not your emotion. Your emotion is how you're feeling, but it is not you.
Having an emotion does not mean you have to act. Sometimes if you're in the crest of the emotional wave you may do or say things that you later regret. Get a grip on your emotion and then react. That way you won't beat yourself up for doing or saying something that you shouldn't have.
Accept your anger and don't repress it.
Continue Learning about Mental Health Basics