Under this model, multiple factors influence and affect your health:
biological (anatomic and physiologic)
psychological (thoughts, memories, beliefs, attitudes, emotions, and feelings)
social (interpersonal relationships)
The biopsychosocial model rightly comprehends that early life influences (genetics and environment, both physical and social) affect you psychosocially and biologically. They influence your behaviors, the way you function, and your health. They can be key contributors to your being symptomatic. While the biopsychosocial model is complex, what's important for you to understand is that YOU are complex.
Your symptoms, especially medically unexplained symptoms, are expressions of altered mind/brain and bodily function that may be the consequence of multiple factors.
For example, depending upon your inherited genetic predispositions
(temperament and vulnerability factors), the experience of high levels of stress, emotional distress (anxiety or depression), lack of social support, and physical/biochemical changes in your body interact down to the cellular level to affect your health and produce illness and disease. Various personal, interpersonal, and social factors affect your health for good and ill.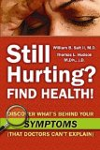 Continue Learning about Mental Health Basics