From the Wise Witness (our true self), we can forge a new relationship with the
mirror by simply not looking too closely. That means doing what we need to do, like brushing our teeth or hair, and then moving on. It means looking in the mirror briefly and not scrutinizing, evaluating, judging, or imagining what other people are seeing.

If you can step back and become aware of that which is looking you align with the Wise Witness and connect with its compassion for the contracted part of you that's unhappy with what it's seeing. Once you become aware of your negative relationship with the image in the mirror and the suffering created by the harsh, rejecting, perhaps even violent way you've been scrutinizing it, you can choose to stop any negative self-talk and develop a kinder relationship with the image. Negative thoughts such as "I don't like it"; "I want to change it"; and "That's awful!" aren't us, they're our conditioning. The more we realize that the mirror brings out the Critic (judgmental voices), the more we can work to develop a different relationship with the image by being very gentle with it.

The Wise Witness knows that this two-dimensional representation of the body isn't you. Only when you look deeply into the eyes of the reflection do you get a taste of what you really are -- radiant spaciousness, beyond name and form.

When we're away from mirrors, it's easier to become more aligned with what is looking out from our eyes (our true self) than with what our eyes see. When we align with the Wise Witness, we experience ourselves looking rather than as objects being looked at. When we believe we're objects, it allows the Critic to rush in and judge us. If you want to stop
suffering over how your body looks, avoiding long looks in the mirror can really help.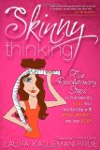 The first step to becoming fearless about our physical appearance is knowing that our fears of inadequacy are manufactured and mass-marketed. The fear-generating messages of perfection we measure ourselves against come not from Moses on the mountaintop but from the multibillion-dollar cosmetics and fashion industries whose profits are directly tied to our levels of insecurity.
And the reason so much is spent on market research and advertising is because it works. Marketers know that if they team up with the multibillion-dollar entertainment industry, they can not only sell us fantasies but also then sell us the products we think will help us realize them. That's only half the story, however. We are, after all, the ones perpetuating the game of comparisons. The urge to compare, to see how we're doing relative to others, is part of the human condition. But we can enlarge our perspective to dilute the power of our narrow, self-destructive comparisons. I know this is hard, but if we can't completely stop playing the comparison game, we can at least start changing whom we compare ourselves to. Instead of comparing ourselves to Angelina Jolie, how about comparing ourselves to a victim of the BP oil spill, a woman who lost her legs fighting in Iraq, or a woman diagnosed with breast cancer? They're out there, too. When we do this, we are sure to tap into our reserves of empathy and gratitude instead of our endless self-judgments, fears, and jealousies.
It was only when I began observing the critical voices inside me rather than giving in to them that I could start to take control over them. Instead of being drained by the negative self-talk, I found myself amused by it -- the way you are by a naughty child. We have a choice about what to do with the messages we hear. We may not be able to tune them out entirely, but we don't have to let them run the show. For example, if your inner voice is saying something specific, such as "I want to slim down," "I need more exercise," or "It might be fun to get highlights," then fine, go ahead and listen. But if the voice is just mindlessly nit-picking and running us down, we have a responsibility to lower the volume. If we let these voices deplete our energies, they will. Since the comparison game is a game that no one can win, why play in the first place?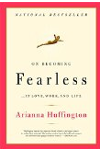 More About this Book
On Becoming Fearless...in Love, Work, and Life
Observing that her own teenage daughters were beginning to experience some of the same fears that had once burdened her--how attractive am I? do people like me? do I dare speak up?--Arianna...
Continue Learning about Mental Health Basics