The meaning behind failure and mistakes can be that you need to wake up from your competitive trance. If you are spending precious life energy trying to win competitions that are not in line with who you are and who you want to be, then failure and mistakes can be a gift that causes you to reevaluate your competitiveness. This can take the form of "keeping up with the Joneses" but it also can be much more subtle and pervasive.

Every environment you find yourself in will have some form of competitiveness at work. What people are competing for may differ wildly, but the underlying competition is present. A friend of mine, who once went from working in a prestigious law firm to working as a waitress in one week, remarked at how all of a sudden the rules had changed from vying to put in the most billable hours to vying to wear the shortest skirt. Competition was a major factor in both environments, but the golden ring was different.

If you are in an environment that was meant to be a steppingstone, or was an experiment to find out how you would like it, it can be difficult to ever leave. You may get caught up in the competition and forget to constantly monitor the environment to make sure it is in line with your highest vision for yourself. If you get caught up in such a position, mistakes and failures may be just what you need -- they may get you going on a vision quest to figure out what you really want.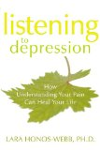 Continue Learning about Mental Health Basics