For the following exercise, think of a mistake that haunts you. The following series of questions will help you use this mistake to gain increased clarity about your true life path.
Ask yourself, "If this mistake is in alignment with my highest vision of my life and its possibilities, what is the meaning of the mistake?"
Ask yourself, "If the events of my life are meant to be my personal guru, what message is my guru giving me about the direction I should take at this point in my life?" Imagine you went to the holiest guru in the world and asked her, "What is the meaning of my life?" Imagine that her answer was "Wait and see. Your life will speak to you." Then imagine that the mistake you identified before beginning this exercise occurred. What would it mean? Remember that the purpose could be to reconnect you with bigger and better goals or help you build important skills that are essential to the contribution you need to make to the world.
Ask yourself, "What lessons am I learning from this failure or mistake? What skills am I learning from these events?"
Based on your responses to these questions, write out a summary statement of your own guiding vision. What are you working toward? Who are you meant to be?
If you find yourself getting stuck and dwelling on your mistake, you may want to reflect on the general attitude you are taking toward yourself. One way to change your attitude is to change the questions you ask yourself. To find the meaning in the mistake you will have to stop asking yourself questions like "Who is to blame?" "What did I do to deserve this?" and "What's wrong with me?" To try to overcome any tendency to self-punish, ask yourself the following questions:
Am I okay?
What do I need?
How can I comfort myself?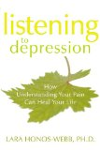 Continue Learning about Mental Health Basics