To create your own positive affirmations:
Decide what area of your life you want to transform by creating a positive affirmation: work, health, success, happiness, family, love, or money.
Make your affirmations in the present tense: "I am" or "I have." Your subconscious mind will hear that it is in the present, not in the future.
If you feel you are afraid of not being loved when you are your real authentic Self, make an affirmation like "People love me when I am myself." If you feel you don't earn enough money, maybe make an affirmation such as "My income is now increasing."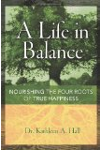 Continue Learning about Mental Health Basics