Ways to take care of your emotional well-being are:
Pay attention to what you think and feel. Identifying and understanding the sources of stress in your life is the first step towards coping.
Eat well, get enough rest, and be physically active. These wellness strategies can help you feel calm and more resilient. Exercise and regular movement, in particular, can help you release the pain of anger, grief, fear, or depression.
Stay connected to people you care about and develop and nurture your relationships. Join a support or common-interest group and reach out to neighbors; volunteer.
Cultivate peace of mind and relaxation. Some of us find meaning and comfort in meditation, prayer, or participation in a religious community. Others relax through activities such as singing, painting, reading, or gardening. Engage in activities that foster your gratitude, appreciation, and compassion.
Work for social or political change. When the stressors in our lives are too big and powerful to tackle on our own, working with friends, neighbors, or colleagues to change the conditions that make our lives difficult can give us a sense of purpose and help us see our individual concerns within a larger societal context.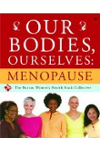 More About this Book
Our Bodies, Ourselves: Menopause
FROM THE EDITORS OF THE CLASSIC "BIBLE OF WOMEN'S HEALTH," A TRUSTWORTHY, UP-TO-DATE GUIDE TO HELP EVERY WOMAN NAVIGATE THE MENOPAUSE TRANSITION For decades, millions of women have relied on Our...
Continue Learning about Mental Health Basics