There are few feelings in the world that surpass that of knowing you helped someone - whether it's through a financial donation, or a mentoring program, or giving up your seat on a crowded bus. It feels good - and is good. So good, in fact, that some researchers have found that the effect of giving, of altruisms small and big, is similar to the so-called runner's high (the rush of endorphins). But unlike exercise euphoria, this rush can last a long time. The evidence: Ninety percent of people who experience this high grade their health condition as better than those who haven't. The reason: It seems that charity might really start at home. Your thoughts about helping others help you. They seem to be able to do things that strengthen your immune system, boost positive emotions, decrease pain, and provide stress relief.
Separate studies show that charitable heart-attack patients recover faster than those who aren't, and those who do volunteer work have death rates two and half times lower than those who don't. But here's the catch. When you give something to somebody, we want you to find a way to allow them to have the dignity to pass it along to someone else. Though people very often need help, they also don't want to feel like charity cases. They want to feel like they can pass something along to others. This also makes giving more attractive since you are really priming the pump of a chain reaction that will help many more people than the one group you targeted with your kindness. So be explicit in your giving and ask how the recipient will pass it forward. Try to pick groups where this expectation is clear.
While many people think they should give to charity or do something to give back, that's not the only concept that's important. It's not the obligation to give back, but the privilege of doing something bigger than yourself. You don't have to donate money, just time, and passion. You don't have an obligation to society to find a bigger purpose—you have an obligation to your own health and happiness. And the more you value what you are doing with your mind, the more you'll do healthier things with your body.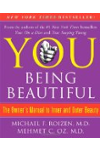 More About this Book
YOU: Being Beautiful: The Owner's Manual to Inner and Outer Beauty
Most people think that beauty revolves around such things as lipstick, sweet eyes, or skinny jeans -- all those things that we can see (and obsess over) in the mirror. But the fact is that beauty isn't some superficial pursuit, and it's not some random act that you can thank (or curse) your ancestors for.There are, in fact, scientific standards to beauty. Beauty is purposeful, because it's how humans have historically communicated who we are to potential mates. Beauty, in fact, is really about your health and happiness.In this groundbreaking book, Dr. Michael F. Roizen and Dr. Mehmet C. Oz bust the myths and stereotypes about the way we view ourselves -- and how we define beauty. In these pages, you'll find out why beauty isn't as much about your vanity as it is about your humanity. The doctors take a scientific, informative, and entertaining look at the three levels of beauty and explain how they all work together to form a complete and authentic YOU. Those three levels of beauty are:Looking Beautiful: Your appearance influences your self-esteem and has major health implications. Here, the docs will tell you how you can look the way you want.Feeling Beautiful: So what if you have luscious lips or gorgeous locks if your joints creak and you have the energy of a rug? The docs will tell you how to improve your energy levels, beat back your life-altering aches and pains, and come to grips with some of life's toughest stresses.Being Beautiful: By improving your relationships with your loved ones as well as with others, you'll be well on your way to finding true happiness. That's the ultimate goal: Having all three levels of beauty working together so you can have a happy and healthy life.You'll start off by taking the ultra-revealing and validated YOU-Q Test to help you assess where you are on your own beauty scale and where you want to be. Take the test, see how well you do; then use the book to help you improve your score.With their usual candor and honesty, Dr. Roizen and Dr. Oz break down the mechanics of beauty and explain how little adjustments in your routine can help you become a happier, healthier person. You will learn about the biology of beauty, take YOU Tests to determine where you are on the beauty scale, get tons of YOU Tips to help you improve your life, as well as learn the secrets of the Ultimate Beautiful Day.From hair to toenails, Dr. Roizen and Dr. Oz go through every part of your body to explain how different foods, vitamins, creams, gels, and injections can really boost your looks. They scrutinize the beauty myths that bombard us every day and offer an unbiased perspective on which ones cause more harm than good. You will be able to revamp your beauty regimen (or start a new one from scratch). They'll also take a close look at chronic pain, mood swings, low energy, and financial stresses. And they'll dive into the science of building relationships, finding happiness, and using spirituality to help you define your own levels of true beauty.Dr. Roizen and Dr. Oz act as tour guides navigating the tricky but exciting terrain of today's beauty industry. YOU: Being Beautiful is your all-inclusive ticket into the world -- the real world -- of beauty.
Being a giving person has mental and physical health benefits. In addition to increasing feelings of gratification, studies have found the act of giving has mental health benefits including lowered levels of stress and anxiety. Giving and volunteering can have physical benefits as well. Some studies have shown a decrease in blood pressure and a strengthening of the immune system when people give of themselves. And this is not simply a case of healthier people being more generous. The health benefits are clear.
Remember though, it's not all about money nor the amount. Donating time and energy counts just as much. It could be something as simple as giving up a seat on the bus. This is a chance to not only improve the lives of others, but to improve a person's own health, sense of well-being and happiness as well. Everybody wins.
Trinity Health is a Catholic health care organization that acts in accordance with the Catholic tradition and does not condone or support all practices covered in this site. In case of emergency call 911. This site is educational and not a substitute for professional medical advice, always seek the advice of a qualified health care provider.
Continue Learning about Mental Health Basics