The ability to bridge the gap between ourselves and a spiritual force greater than ourselves is available to us at all times. It's the bridge between what we know and what we only dimly perceive, between what we are now and what we can become. As we start to walk across that bridge, as we make that connection, we gain perspective on our lives.
Through the simple act of paying careful attention- whether to what we eat, how we move, or where our thoughts wander- we become aware of the significance our minds attach to things. And in that awareness, we recognize how interconnected everything is. All religions have similar practices that can free us from the fear that results from the need to control.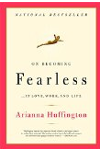 More About this Book
On Becoming Fearless...in Love, Work, and Life
Observing that her own teenage daughters were beginning to experience some of the same fears that had once burdened her--how attractive am I? do people like me? do I dare speak up?--Arianna...
Continue Learning about Mental Health Basics