Therapy is an option for trauma caused by emotional abuse:-Sometimes, those closest to you are unable or unwilling to talk about what's wrong, offer unhelpful advice, or are too much a part of your problem to assist you. Even when you have good support from people who care for you, you may still want additional help or a fresh perspective. If so, it is useful to explore the option of therapy.
Choosing therapy is not a sign of weakness, as some people believe; nor is it "putting your business out where everyone can see."Therapists owe legal obligation to a client to keep confidential all that goes on in therapy. Moreover, you don't have to be concerned about protecting a therapist's feelings, as you might with a close friend or family member, and may thus feel free to talk.
Many mental health professionals assume that emotional distress, especially in a woman, requires medication, psychotherapy, or both. It helps to find a therapist who focuses not only on your problems but also on your strengths and resources, which are your essential raw materials for coping. Good caregivers recognize that even women who experience such traumas as sexual abuse in childhood or rape have the capacity for resilience. They also recognize the importance of holding abusers responsible, so that women are less likely to feel guilty or blame themselves for these traumas.
Therapy sessions facilitated by a mental health professional may occur one-on-one or in a couple, family, or group setting. Therapy involves an exchange between the client and the therapist. Through these discussions, you can seek to experience and express your feelings, understand your emotional life more fully, tell your story and possibly rethink it to come to a new understanding of your history. You can learn about your inner strengths, think about your concerns in various contexts (personal, interpersonal, and societal), explore possible solutions for current life problems, and learn better ways to communicate your needs.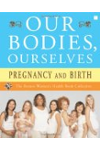 More About this Book
Our Bodies, Ourselves: Pregnancy and Birth
ALL THE INFORMATION YOU NEED TO MAKE WISE DECISIONS ABOUT YOUR PREGNANCY AND THE BIRTH OF YOUR CHILD -- FROM THE EDITORS OF THE CLASSIC "BIBLE OF WOMEN'S HEALTH" Pregnancy and birth are as ordinary...
Continue Learning about Mental Abuse in Relationships