You can teach yourself to think more positively if you make a point of giving positive messages to yourself. Turn your negative messages into something positive. When faced with a looming deadline, say, "You'll succeed. You did a good job getting that project done on time last month." When struggling with a weight loss program, tell yourself, "I've been doing a good job sticking to my walking program. And I haven't gained back the three pounds I lost last month." When discovering an unwelcome "treasure" left by your dog, remind yourself, "He'll eventually get housebroken. It's been a week between accidents, so they're less frequent than they used to be."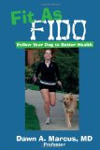 More About this Book
Fit As Fido: Follow Your Dog to Better Health
Let your dog teach you to live a happier, healthier, and more fulfilling life! Companionship with your pet can be used as a means and a motivator to increase your own physical and mental fitness....
Continue Learning about Mental Healing (Positive Thinking)