Stress and anxiety can interfere with concentration and memory, so it's important to take time to relax. Practice deep breathing, contract and relax each muscle in your body one at a time or take a virtual escape by closing your eyes and imagining yourself on a beach or other relaxing place. Just 10 minutes a day can make a positive difference in your memory abilities.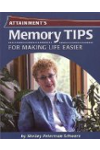 More About this Book
Memory Tips Making Life Easier
Written by memory and aging expert Shelley Peterman Schwarz, Memory Tips for Making Life Easier delivers just what its title promises. Written for health care professionals, family caregivers, and...
Continue Learning about Mental Fitness & Nervous System