Take classes. Universities and colleges often offer free classes for the elderly. (Check with the school to determine if you're old enough to qualify.) Learning new things is a wonderful way to keep your mind and memory operating in peak condition.

Create art. Remember when you were young how much you enjoyed coloring, painting, modeling clay and other art activities. Get out the crayons, paints and clay and enjoy these activities again. It will be fun and will keep those synapses snapping.

Make music. Hum along with the radio, sing favorite melodies or play a musical instrument. Not only will you exercise pathways in your brain, you may just attract a group of admirers to interact with.

Play games. Make time for fun. Do jigsaw puzzles, play Checkers or card games (War, Blackjack, Rummy, Cribbage, etc.) or use picture cards to play Concentration. Playing games will stimulate thinking and problem solving.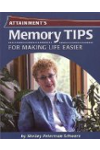 More About this Book
Memory Tips Making Life Easier
Written by memory and aging expert Shelley Peterman Schwarz, Memory Tips for Making Life Easier delivers just what its title promises. Written for health care professionals, family caregivers, and...
Continue Learning about Mental Fitness & Nervous System