Menstrual blood comes in various shades depending on how long it's been sitting in the uterus or vagina, says Sangeeta Sinha, MD, from StoneSprings Hospital Center. Watch this video to find out when it might be worrisome.
If menstrual blood is brown in color, it's simply old blood. Watch Sonia Ceballos, MD, of MountainView Hospital, explain why brown blood is normal during menstruation.
If your menstrual blood is brown and late to start, this typically indicates low levels of progesterone. In this video, functional nutrition specialist Alisa Vitti describes how hormone imbalances can affect the color of your menstrual blood.
It usually means that your estrogen is somewhat low or it could also be a sign of a vaginal infection.
Continue Learning about Menstruation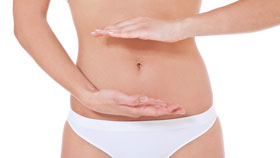 The menstrual cycle can vary from women to women. Some get their period on the same day every month, while others have irregular cycles, a heavy flow, painful cramps or PMS. Learn more about menstrual problems from our experts.