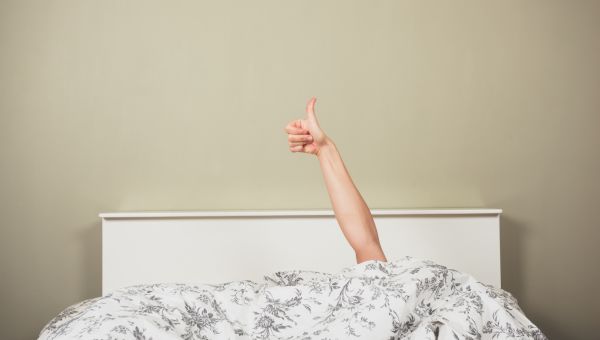 Learn why doing what feels good is so good for you.
There are a lot of great reasons to get excited about that time between the sheets with your partner. It feels so good—that goes without saying—but did you know that sex also brings some major health benefits? Keith Roach, MD, chief medical officer of Sharecare and co-creator of the RealAge Test, shares the key ways sex can have a positive impact on your total health, which may also help lower your RealAge.
Sex Boosts Your Heart Health
When it comes to a good roll in the hay, you're hitting a health trifecta. Studies show that sex can be a good form of exercise, lowers your blood pressure and helps your heart respond to stress in a healthier way—three things that can boost your cardiovascular health. While you can't compare it the calorie burn of a two-mile run, it still counts as a workout—especially if your lovemaking is filled with energy and intensity. "And the long-lasting dip in blood pressure after sex can be a good thing, too," says Dr. Roach. Just be sure to talk to your doctor first if you have a history of heart attack or cardiovascular disease. Roach adds, "The vast majority of time it should be fine if you're not experiencing symptoms like chest pain or shortness of breath."
Sex Helps Sleep and Ease Stress
Take a moment to think about how you feel after a solid romp in bed with your honey. Is it easier to fall asleep? Are you less stressed out? Part of the reason why is that you've let off a little steam and eased some tension through this simple act. For some people, that's enough to help them nod off faster and sleep better. Another reason you may feel at ease after sex is because it helps release those feel-good hormones in your body that may bring on a closer bond with your partner, says Roach. "For many couples, feeling that kind of closeness can be a good way to put short-term stress in check."
Sex Is Good for Your Prostate
Being a man means you've got to stay on top of your prostate health as you get older. A simple way to give your prostate some extra care and attention is by having more sex. Why? "When you ejaculate, you're releasing built-up materials and toxins that are bad for your prostate," says Roach. "And studies show that doing this 21 times per month is what you should aim for."
Here's another bonus tip for even better sex—try and schedule time for sex in the morning. That's when your testosterone levels are at their peak, which is a great window for arousal, erections and ejaculation, says Roach.
Medically reviewed in November 2018.