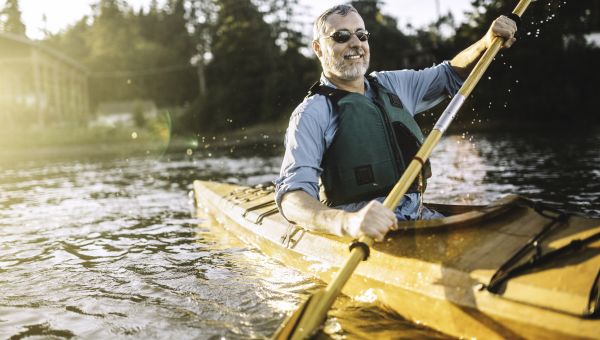 Learn what areas of your health can affect performance as you age.
As you get older your health plays an important role in how you experience sex. From erectile problems to decreases in drive and performance, take a closer look at how three key body systems affect your sex life.
Are All 3 Systems a Go?
Your body is a complex network of systems that must function properly in order for you to live your best. But three of those systems take center stage when it comes to keeping pleasure alive and well in the bedroom as you age: your nervous system, cardiovascular system and endocrine system.
"It's really important for these three systems to work well together in order for a man to successfully enjoy his sex life," says Keith Roach, MD, chief medical officer of Sharecare and co-creator of the RealAge Test. Take a few moments to really think about what happens when you get aroused. There's a reason you get excited in the first place, and it all starts with one of the most vital parts of your central nervous system—your brain.
According to Dr. Roach, it's the most important sexual organ that you have (other than your penis), because you need to be in a good place mentally and emotionally to enjoy the benefits of a healthy sex life. What's more, diseases that can damage your nerves—like diabetes—can interrupt nerve signals to the penis and lead to erectile dysfunction (ED), while other problems like incontinence also can offer clues about this kind of nerve damage. "Most men experience incontinence because their nerves aren't working properly, and that's definitely something they should address with their doctor," says Roach.
As arousal then works its way from your brain to the rest of your body, a healthy heart and cardiovascular system play another big role in your sex life, since each are what help you maintain an erection. Blood has to flow into your penis when you're excited, and then back out after you've achieved orgasm. More importantly, the same kind of plaque that clogs your arteries and leads to heart attack can also restrict blood flow to the penis, resulting in ED. That's why a healthy heart is so key to helping you avoid below-the-belt problems.
Finally, your endocrine system comes into play via certain hormonal changes in your body. This is where the male hormone testosterone is put to the test. A decrease in your testosterone levels is normal as you get older. And it's a big reason why you may feel low on energy and drive when it comes to having the kind of sex you enjoyed when you were younger. "There's no way around that—testosterone production just slows down with age," says Roach. "But a total loss of function isn't normal."
Medically reviewed in November 2018.