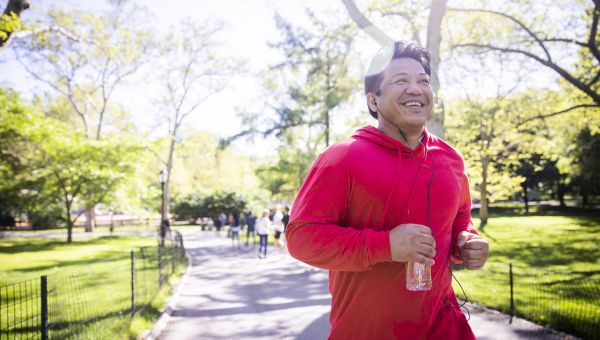 I travel for work just about every week. You might have the healthiest of intentions when you're at home, but if you're like me, once you hit the road, sometimes maintaining a healthy lifestyle can be a little challenging. You're entertaining clients, working longer hours, sitting on an airplane…I've heard and used all those excuses before. But if you're not careful, you're going to have to buy yourself a bigger suit for your next big meeting.
So you have to take control. I put together a few tips for myself to try to tip the scales in the right direction while I'm on the road. I thought I'd share them in honor of Men's Health Week.
1. Bring your running shoes
Throw your running shoes into your suitcase and then you can be off and running. Skip the treadmill and go for a run in a new city; it's a great way to see the city in a completely different way. You can make it more fun by making it a game and challenging yourself to try to run more miles in other cities than at home. If you don't know where to go, just ask the concierge; they always have trail maps for routes of varying distances nearby.
You can also lookup local running groups to see if you can join a group run. Having something organized definitely helps you get off the hotel couch and get motivated.
Related: More ways to stay fit while you travel.
2. Create a hotel room workout
If you don't want to run or you need to cross-train, use the hotel gym. But you might not always feel like going down to the gym -- and you don't always need weights or machines. You can build your own workout with suggested exercises from Sharecare Fitness. You can use pushups, sit-ups, burpees, squats... anything to get you started.
Related: Here are some ideas for working out in your hotel room.
If you're feeling extra motivated, try to find a personal trainer in your city and visit their gym.
3. Use a food log
When you're entertaining clients/partners at dinners, sometimes it's easy to stop counting your calories. But whatever you do, don't. When you're on the road is when you'll likely need your food log the most. Keep a close eye on everything you're consuming to make sure you stay within your calorie ranges. That doesn't mean that you have to be the fuddy-duddy on your trip, but you also don't have to go overboard. You'll feel better the next morning for it when you're working out in your hotel room.
An easy way to make progress is to never skip breakfast. It will help you get the day started off right. But if you're having breakfast in the hotel, pass on the eggs, bacon, and potatoes and order oatmeal with fruit.
4. Tweet your intentions
The best way to keep yourself honest with exercising and eating right on the road is by making it social. Tell all your friends on Facebook, Twitter, and Sharecare. Another fun way to exercise is to make friends with the concierge or the front desk clerk and then tell him that you're going to go for a run; you won't want to walk by him later if you didn't run when you told him you would.
Recruit a buddy either on the road or back home to keep you on track. They can be like your own personal coach; you can keep pushing each other to exercise and eat right (even if you're not together).
Now, I'll be the first to admit that I don't always follow these to the letter, but these are just a few things that have helped me.