With all the media reports on menopause, the cessation of menstruation that only women can experience, some researchers now believe that men undergo a similar period. This period in life is often called "andropause" or "viropause," and refers to the loss of virility that often occurs during the 40s and 50s.
During this time, a man's strength, sex drive, and peace of mind may take a nose dive. Some men go to their physicians and tell of being extremely despondent or depressed, thinking that their best years are over. Others may make drastic changes like changing careers, buying a fast boat or sports car . . . or even leaving their wives and families for a younger partner.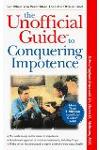 More About this Book
Unofficial Guide to Impotence
The Unofficial Guide to Conquering Impotence delivers the inside scoop on impotence: the truth about Viagra, what treatments really work, and how lifestyle changes can aid in conquering...
Andropause is the name given for male menopause. Testosterone levels may decline as early as the 40s and 50s. Men are commonly given Viagra even though the sexual dysfunction is occurring from a lack of testosterone.
An important distinction from menopause is that in some men, this fall in testosterone can be reversed without the need for testosterone. Men should first undergo an evaluation by an endocrinologist to determine the CAUSE of the low testosterone. Common conditions that lower testosterone include: sleep apnea, insomnia, stress and prescription drugs. While unusual, low testosterone can result from pituitary or brain tumors that require surgery or other drugs. Failure to recognize this serious condition could be life threatening. If the root cause is identified and treated, a man's testosterone level may be restored without the need for testosterone treatment!
If an endocrine evaluation reveals a true testosterone deficiency, then it's appropriate to replace testosterone either as topical gels or injections.
Andropause is the lesser-known male counterpart to the female menopause. In andropause, the dominant hormone in men, testosterone, decreases. This is also known as late-onset hypogonadism. These are changes associated with normal aging in the male population. There are treatments for andropause, and these should be discussed with your family doctor.
Continue Learning about Men's Health