Menopause is the cessation of menstrual bleeding due to aging. The stage of life where symptoms may occur during the years around the last menstrual period is more accurately called perimenopause. Both perimenopause and menopause are natural life passages, not diseases.

Some women pass through these stages in life with only minor intensity of symptoms such as hot flashes, night sweats, or changes in sleep patterns. Some women, however, experience such severe symptoms during these years that medical therapy of low doses of female hormones improves their quality of life in a necessary way. There is an abundance of ongoing research about the safest and most effective way to provide these hormones.
One reason for the medicalization of menopause is the long history of attributing ill health and characteristics considered undesirable for women to their reproductive organs and hormones. For example, terms like hysteria (derived from the Greek word hystera, which means &quotwomb") reflect the former belief that behaviors considered inappropriate for a woman were somehow caused by her uterus. Some women in the nineteenth century had hysterectomies in attempts to treat a wide variety of problems. Similarly, some doctors believed that the ovaries were the source of ill health and advocated their removal.
During the same era, higher education for adolescent girls was discouraged for fear that taxing girls brains would ruin their reproductive organs.
Another reason why so many doctors view menopause as a deficiency condition is that they are more likely to see in their offices women who are experiencing distress than those who are not. Women who have a relatively easy time during and after the menopause transition simply do not visit doctors as often. This makes it seem to doctors (and others) that menopause is more stressful for most women than it actually is.
Finally, the pharmaceutical industry must be recognized as a driving force in the medicalization of menopause. Pharmaceutical companies have sponsored many studies on hormones. They influence the way the studies are conducted and how the results are interpreted.
These studies are published in prestigious medical journals and become accepted as scientifically valid. Legitimate criticisms of these studies often do not reach the lay public. The pharmaceutical industry also sponsors &quotcontinuing education" seminars for physicians, reinforcing the use of hormones either as a treatment for menopause, or as a preventive measure for chronic diseases. Research has shown that doctors' prescribing practices are often strongly influenced by promotional messages rather than by scientific evidence.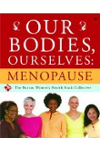 More About this Book
Our Bodies, Ourselves: Menopause
FROM THE EDITORS OF THE CLASSIC "BIBLE OF WOMEN'S HEALTH," A TRUSTWORTHY, UP-TO-DATE GUIDE TO HELP EVERY WOMAN NAVIGATE THE MENOPAUSE TRANSITION For decades, millions of women have relied on Our...
Continue Learning about Menopause