Menopause may be an inevitable consequence of aging, but it doesn't have to be treated as a health condition and it certainly doesn't mean life as you know it is over. There are many women who transition into menopause without bothersome symptoms and there are plenty who just deal with it with grace. But even if you have symptoms that impact your quality of life, there are many lifestyle options and medical treatments, including short-term hormone therapy that can help.

There was a time when some women didn't live long enough to experience these symptoms, but now women live well beyond the menopausal years leading fulfilling and active lives. The good news it that many of these symptoms disappear within a few years.

The new vision for life after menopause, the period ending your fertility, has changed. No longer are women bound by "the change." Instead, women are embracing this transitional point in life and using it to fuel other lifestyle changes.

Menopause no longer signals an end, but it marks a beginning for many women to become more independent, more focused, and to feel more empowered. Thanks to treatment options, women can manage their symptoms during and after menopause.
The image of postmenopausal women is changing. We are looking at more active years than our mothers did and can explore options, discover strengths, and enjoy life on our own terms. We need a new blueprint for these years, one that allows for changes in family structures, work patterns, and our roles as caregivers and for new definitions of retirement and the possibility of many healthy postretirement years. The menopausal transition is a change, but it can be a time of great enrichment.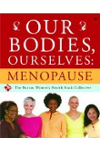 More About this Book
Our Bodies, Ourselves: Menopause
FROM THE EDITORS OF THE CLASSIC "BIBLE OF WOMEN'S HEALTH," A TRUSTWORTHY, UP-TO-DATE GUIDE TO HELP EVERY WOMAN NAVIGATE THE MENOPAUSE TRANSITION For decades, millions of women have relied on Our...
Continue Learning about Menopause