Based on recent research and years of clinical practice, I have no doubt that the right balance of bioidentical hormones keeps your brain focused, your body in better health, and your soul happy. With bioidentical hormones you can lower the risk of age-related disease: your cholesterol levels and the development of coronary artery plaque should remain low, resulting in a significant decrease in the likelihood of developing cardiovascular disease. The lining in your intestines will stay healthy, which can prevent irritable bowel problems and other intestinal disorders, such as colon cancer. Bioidentical hormones also prevent your hair from falling out, your bones from becoming brittle, your joints from drying out, and your waist from going bye-bye. It's pretty amazing, and a true blessing to have access to these hormones. By replacing the hormones that you lack with bioidentical hormones, I am certain you will enjoy a healthier second half of life
It's called the big change for a reason. During the transition into menopause the amount of reproductive hormones in a woman's body are dramatically altered, which affects various other systems in her body in one way or another. When she is younger and still in what we call the reproductive years, a team of hormones -- estrogen and progesterone -- causes an egg to be released each month. And if it doesn't get fertilized, she gets her period and it happens all over again the next month. When she reaches her mid- to late-40s the amount of hormones playing on this team begin to change; some go up and some go down. The principal hormone is estrogen and when that begins to decline, a woman is said to be transitioning into menopause. The menopausal transition usually lasts about four years. We usually don't give women menopause hormone therapy until they are postmenopausal. But if she is experiencing vaginal symptoms such as dryness and irritation she may be able to use a low-dose estrogen cream. Some women are also candidates for a very low-dose birth control pill, which contains the same two hormones -- estrogen and progesterone -- that are in menopausal hormone therapy. But this option is not for everyone and the first line of treatment usually does not include hormone therapy, which may raise the risk of heart disease, stroke and some cancers.
During menopausal transition, also known as perimenopause, your body produces less estrogen, a sex hormone. The reduction in estrogen brings on perimenopausal symptoms such as hot flashes, fatigue, worsening premenstrual syndrome, vaginal dryness, irregular periods, mood swings, breast tenderness, and difficulty sleeping.

At the end of menopausal transition, when you have not had a period for 12 months, you'll be in menopause, and your body will produce very little estrogen.
The beginning of the menopausal transition is marked by the onset of irregular menstrual cycles in women who have had regular cycles previously. The changes in a woman's periods are a signal that changes are occurring in her ovaries.
The changes in your ovaries are orchestrated by a complex set of signals from hormones in the brain, pituitary gland, and ovaries themselves.
Hormones help control the chemistry of the body. Reproductive hormones control the development of follicles (or egg sacs) in the ovaries. Follicles contain eggs (ova) that develop until it is time to release one of them from the ovary. This happens each cycle, making fertilization and implantation possible. In addition to containing ova, the follicles produce hormones, including estrogen. This is the hormone that supports the female characteristics of your bodies, such as the development of breasts and the cells lining the vagina. The ovaries also make androgens, hormones typically associated with support of "male" bodily characteristics, such as hair distribution and muscle development.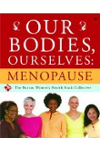 More About this Book
Our Bodies, Ourselves: Menopause
FROM THE EDITORS OF THE CLASSIC "BIBLE OF WOMEN'S HEALTH," A TRUSTWORTHY, UP-TO-DATE GUIDE TO HELP EVERY WOMAN NAVIGATE THE MENOPAUSE TRANSITION For decades, millions of women have relied on Our...
Continue Learning about Menopause