Menopause can provide an opportunity for us to know ourselves and our bodies better.Menopause can make us feel satisfied at having successfully come through a long journey. In Germaine Greer's terms, the older woman is one who climbs her own mountains, &quotin search of her own horizon, after years of being absorbed in the struggles of others." While we may stumble at times, we find the strength to continue. At the end of this transition, we can look forward to a new phase of life that can be liberating and empowering. The menopause transition can inspire us to be more attentive to our health needs, to eat well, and exercise regularly. Many of us are motivated to quit smoking or cut back on our drinking.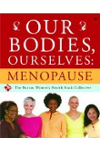 More About this Book
Our Bodies, Ourselves: Menopause
FROM THE EDITORS OF THE CLASSIC "BIBLE OF WOMEN'S HEALTH," A TRUSTWORTHY, UP-TO-DATE GUIDE TO HELP EVERY WOMAN NAVIGATE THE MENOPAUSE TRANSITION For decades, millions of women have relied on Our...
Continue Learning about Menopause