Sleep problems seem to increase steadily across early and late menopausal transition and into post-menopause, with an estimated 30 percent of women reporting sleep disturbances and 45 percent reporting them three years after menopause. This pattern suggests that sleep problems may worsen with progression through the menopausal transition and perhaps be related to other signs, such as night sweats.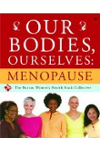 More About this Book
Our Bodies, Ourselves: Menopause
FROM THE EDITORS OF THE CLASSIC "BIBLE OF WOMEN'S HEALTH," A TRUSTWORTHY, UP-TO-DATE GUIDE TO HELP EVERY WOMAN NAVIGATE THE MENOPAUSE TRANSITION For decades, millions of women have relied on Our...
According to the National Sleep Foundation, the time between perimenopause and post-menopause is when women have the most sleep difficulty. About 40% of women report having sleep problems in midlife, relating to hot flashes. During menopause, a woman makes less estrogen, which can cause a lot of related symptoms, including hot flashes. Hot flashes are times when the body's temperature increases and a woman experiences increased sweating and a flushed face and chest area. When this happens at night, it can be hard to go back to sleep. It's also thought that about 20% of women in midlife experience depression, and that can also cause sleep difficulty.
Fortunately there are some treatments for hot flashes and other menopause symptoms. These include hormone replacement therapy (HRT) as well as home remedies you can try. These remedies include sleeping on cotton sheets, making sure the room is a good temperature, making the room completely dark, taking a cool shower before bed, and avoiding heavy meals, alcohol and caffeine close to bedtime. If you're experiencing sleep problems, talk to your doctor about possible solutions.
More than 40% of menopausal women between the ages of 45 and 64 complain of sleep problems with 21% saying hot flashes or night sweats wake them at least a few nights a week. Of course sleep disorders that have nothing to do with menopause can surface during midlife too. These include insomnia, sleep apnea, restless leg syndrome and other disorders. If you're having trouble sleeping it's important to talk to your doctor to find the right solution.
Continue Learning about Menopause